Who will go? Who will stay? Will there be Aussie made cars in 10 years?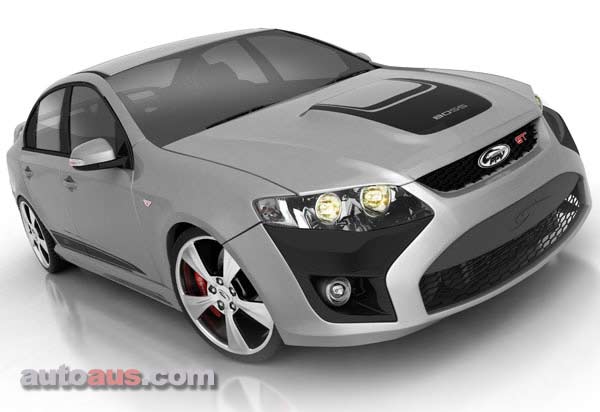 Car Manufacturing in Australia – Should I stay or should I go?
Recently, Ford's president, Alan Mulally raised a stir in motoring circles when a remark he made about Ford's future was interpreted as a signal that Ford may not continue manufacturing vehicles specific to Australia.
"People who make one vehicle for one country – a different vehicle – those days are gone because you can't compete with the global companies," said Mulally at the Detroit motor show last week. This was seized upon as a sign the current Aussie Falcon might be the last. With the US car manufacturing in all kinds of trouble, how has the Australian sector fared?
As of January 2010, import tariffs are now at a low of 5%, a long way from the highs of over 50% in the 1980's. Car manufacturing in this country now has almost no tariff protection. With our high standard of living, unionism, and resultant high wages, it is hard to see an industry remain viable here against lower cost based countries like China.
The ongoing climate change, peak oil, and other social issues haven't helped with sales of Australian cars like the larger Falcon and Commodore. The chart below shows the amount of vehicles manufatured in Australia over the last 5 years (source- FCIA)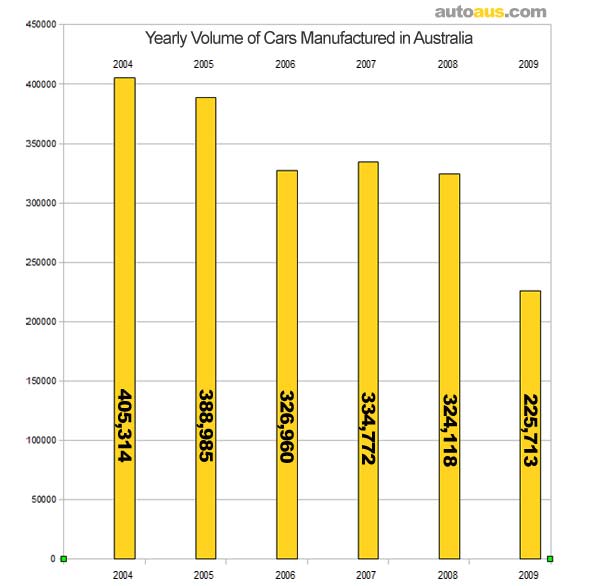 From 405,000 down to 225,000 in just 5 years is not a good trend. It looks even worse when you consider 2008 and 2009 were record years for car sales in Aus, both years recording over a million sales of cars. The 225,000 units manufactured in 2009 is the lowest level since the 1950's.
Toyota currently build as many cars in Australia as Ford and Holden put together, the Japanese company claiming a 100 million dollar plus profit in 2008. Holden and Ford managed to report losses totalling over 300 million dollars between them.
While various government and industry figures talk up the potential of exports, with the dollar currently over 90c US, we aren't a very competitive Oz at the moment. There's no question the industry is seen as a must have by the government, so industry aid is a given.
But whether it will be enough in the long run to maintain an automotive manufacturing industry remains to be seen. Nissan and Mitsubishi have already cried enough, who will be the next?
Holden's car export business to the USA died with GM killing off the Pontiac brand, ending the export of Commodore based Pontiac G8's, and stopped short the Pontiac Sport Truck, which may have been a decent market for the Commodore ute. Ford didn't have current export business with the USA, but has stated that the current generation Falcon will exist until around 2015, with no set plans for it's replacement.
Perhaps the future will be determined more through global economic circumstances, and the exchange rate, With the shortening lead times to manufacture a new model, perhaps the future for Australia is at this time uncharted.