DuPont have released their annual Most Popular Car Colour report for 2009.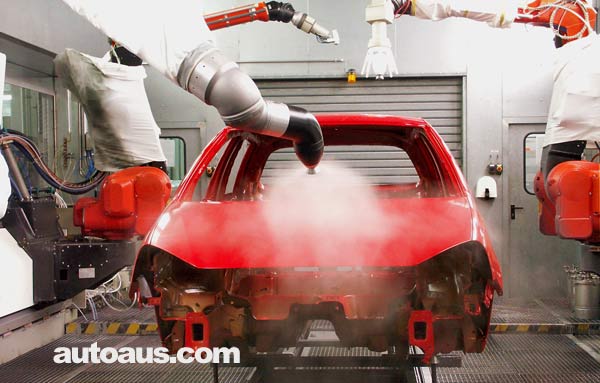 The Most Popular Car Colours Worldwide
Industrial giant DuPont, manufacturers of all things including car paints, has released there annual "Most Popular Colors" report for 2009.
This annual report unfortunately doesnt include specifics for Australia, but we are probably somewhere in between USA and Europe as far as colour choce goes.
One thing we can learn from this report, in order to have the highest chance of selling your car, an attractive tri-colour scheme of Silver, Black and White should ensure a steady stream of callers from the Trading post.
Heres the World Colour popularity list according to Dupont: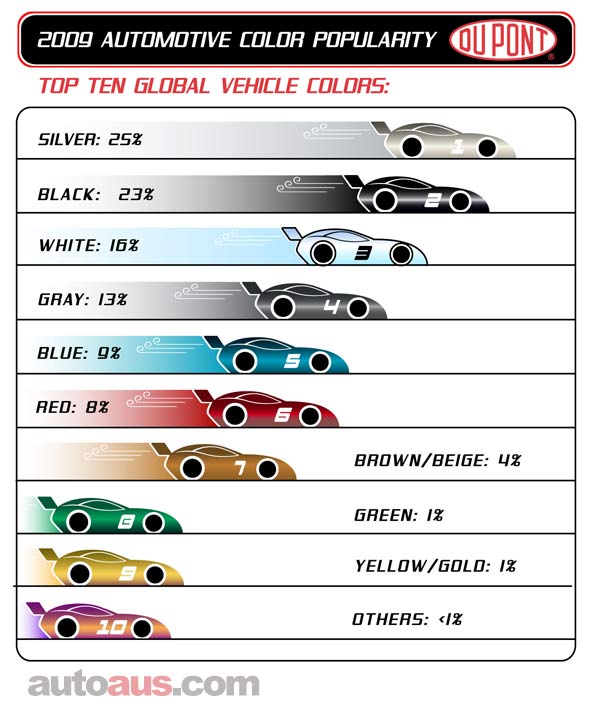 1. Silver – 25 percent
2. Black – 23 percent
3. White – 16 percent
4. Gray – 13 percent
5. Blue – 9 percent
6. Red – 8 percent
7. Brown/Beige – 4 percent
8. Green – 1 percent
9. Yellow/Gold – 1 percent
10. Others – less 1 percent
Motre from the DuPont press release regarding regional differences:
Although the results suggest an ongoing convergence of color choice globally with color preferences becoming more homogeneous across regions, distinct regional differences remain. The top three colors – black, white and silver – continue to show strongly around the globe with growth of these colors across regions.
"It's important to recognize that most people today, no matter where they live in the world, have access to cutting-edge information about popular colors from many sources like glossy magazines and fashionable websites and often will see the same widely distributed films," said Leatrice Eiseman, executive director, Pantone Color Institute. "The top colors become 'aspirational' with a universal appeal."
Changes Across Markets
"There are still distinct regional differences in preference, but global trends are unmistakable," said Nancy Lockhart, color marketing manager for DuPont OEM Performance Coatings. "Color preference can change from year to year because of a variety of factors including types of vehicles introduced, reduced vehicle size, consumer tastes and even the economy. These and other cultural, societal and demographic influences can shift regional trends over time."
In North America, white (17.8 percent) remains the top color choice with black (17 percent) and silver (16.7 percent) in second and third place. However, examining black's popularity over time shows it is rising – up six percentage points from 2005 – while silver and white have dropped in popularity by about two points over the past five years. Chroma colors blue and red remain solidly popular in the North American market, rising from 11 percent in 2006 to approximately 12 percent this year.
In Europe, the top color black (27 percent) continues to gain popularity over silver (19.9 percent), which is continuing to decline. White is growing in popularity but remains a second tier color with 10.2 percent of the market.
Japan saw a wide swing of color popularity for the year, ultimately aligning more with the North American and European markets. White remained the top color choice at 28 percent, dropping 4 points from 2008. Silver dropped five points to 23 percent, tied with black.
In contrast, the Chinese vehicle market experiences fluctuations in color preference. Silver rose four points to 36 percent for the year to remain the top color, with black dropping eight points to 23 percent as the second most popular color. As this market continues to grow there will likely be less variation year to year.
Source and images: Dupont