The Autoglym Water Blade dries your car quickly and easily.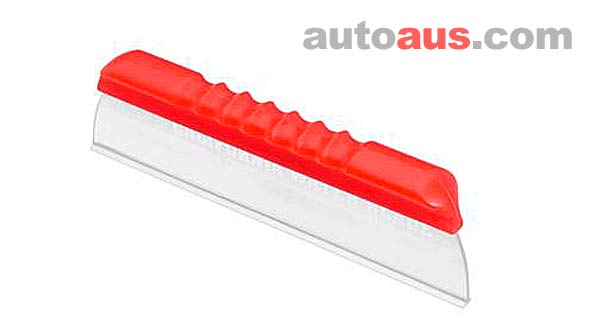 Autoglym Water Blade
Washing your car isn't usually successful unless you dry it afterwards, otherwise waterspotting will ruin your efforts at a sparkling finish. Typically a chamios and lots of wiping and wringing out is the answer.
Autoglym however have a product that can save some time and effort. Using the principle of the windscreen wiper, the Hi-Tech Flexi Water Blade from Autoglym conforms to the contour of the surface you are drying. The highly supple characteristics of the blade will collect and remove water with minimal effort and time.
The AutoGlym Hi-Tech Flexi Water Blade is made of medical grade silicone, one of the most gentle and smooth materials available. The flexibility of the silicone makes this the most efficient drying device on the market, and virtually eliminates the need to use a chamois. It will mould itself to almost any contour, and dries the surface in one pass.
Around 90% of your car can be dried quickly and efficiently in approximately one third of the time compared to using a normal chamois. The blade will not scratch even the most delicate surfaces including your vehicle's paintwork.
For more information about Autoglym products, visit www.autoglym.com.au