The 2010 Camaro is coming to Australia.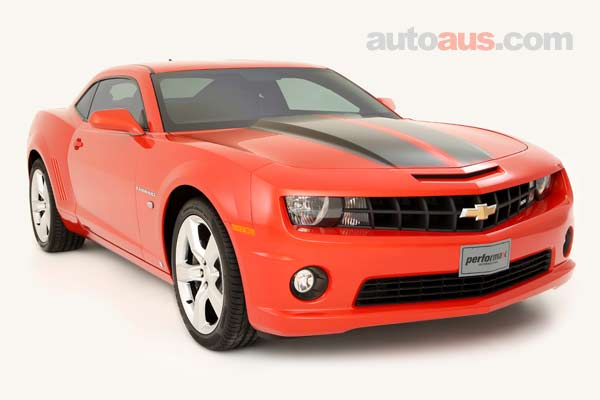 AMERICA'S newest muscle car, the 2010 Chevrolet Camaro, is now on sale in Australia following the launch of the world's first right-hand drive version today.
The strikingly-handsome coupe, which evokes the Coke-bottle style of the Sixties original in a modern design, will be available new with full Australian Design Rule compliance and ready to register in all Australian States and Territories.
The first RHD car, an SS 6.2-litre V8 model in Inferno Orange Metallic, was revealed by importer Performax International with the assistance of Australia's best-known Camaro racer Kevin Bartlett during the traditional V8 Supercar drivers' lunch on day one of the Nikon SuperGP at the Gold Coast.
"It's a great piece of gear and the right-hand drive conversion has been done absolutely without compromise," the retired touring car legend told an audience including a grid-full of current-day drivers, none of whom were racing V8s in the early 1980s when he thrilled crowds around the country with his thundering Channel Nine-sponsored Camaro.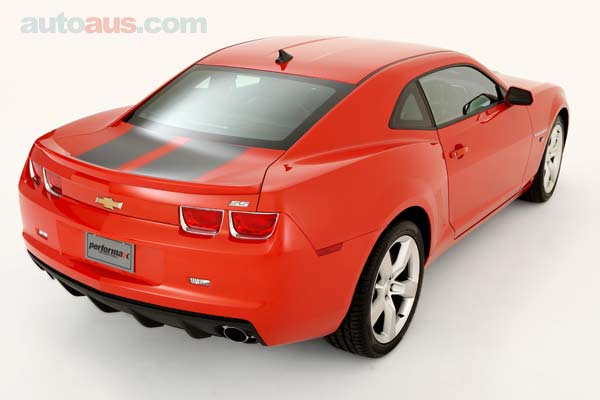 Queensland-based Performax International, Australia's leading importer and converter of new US-made passenger vehicles for the past 20 years, predicts strong demand for the Camaro following rave reviews since its US launch earlier this year.
The Camaro SS with six-speed manual transmission will be priced from $139,000 drive-away, but other versions including a 3.6 litre V6 from $129,000 will be available to order.
Although much of the design, development and testing of the fifth-generation Camaro was done in Australia by Holden, Performax International has produced a factory-perfect right-hand drive version completely in-house with its own industry-leading technology.
"We understand this is the first RHD 2010 Camaro built anywhere in the world and we're proud to be bringing such an eagerly-awaited new car with an iconic badge back to Australia," General Manager Nicholas Vandenberg said. "It's certainly the best RHD car we have ever produced in both engineering and appearance.
"The Camaro SS drives just like it does it does from the factory, meaning it has the same outstanding handling, tactile steering and powerful V8 performance noted by American reviewers. The driving position, including the relationship between steering wheel, pedals and seat, is perfect."
"Thanks to our industry-leading computer-aided-design and plastic injection moulding technology, we have been able to re-create the fascia, door panels, centre console, ventilation ducts, wiper cowl and other parts with total accuracy of fit and finish.
"For something that will be an absolute standout on Australian roads – and drive as good as it looks – it's great value for money. Buyer interest in the 2010 Camaro has been unprecedented. We already have half a dozen orders and expect more now it is finally released."
The Camaro SS package includes General Motors' 318 kilowatt LS3 alloy V8 engine, matched to a Tremec six-speed manual transmission, StabiliTrak Electronic Stability Control with Traction Control, high-performance Brembo brakes with four-piston aluminium calipers, leather heated seats with driver's six-way power adjustment, cruise control, Bluetooth, tilt and telescopic steering wheel, Boston Acoustic 245 Watt stereo system with nine speakers and auxiliary/USB input jacks, leather-wrapped steering wheel and shift knob and front, side and head-curtain airbags.
Deliveries are expected to start in December or January, following formal ADR certification.