Charger E55 340 – Second in a photo series of classic vehicles that are past saving.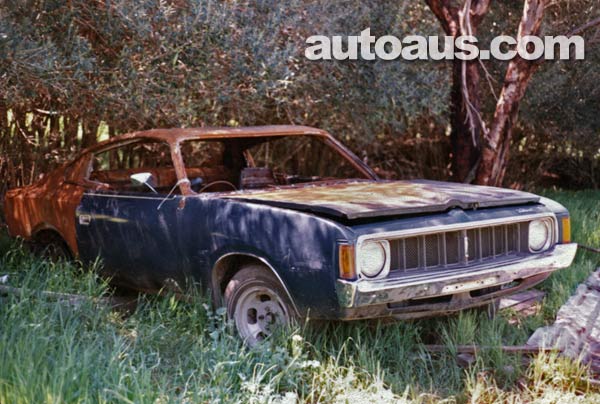 Click on image for larger version – copyright autoaus.com
E55 Valiant Charger
It is possibly the most final of catastrophes for a car – fire. This Valiant Charger met its end in a fireball, and is seen here laying forlornly in an olive grove. Not just any Charger though.
This rusty wreck is a VJ "E55″, one of only 212 offered with the optional 340 cubic inch Mopar engine imported from the USA. Only 5 were made in this colour, True Blue Metallic.
Rumours abound that the 340 engine option was to have been offered with R/T style options and backed by a 4 speed manual to take the fight to Ford and Holden. The early '70s "supercar scare" was said to have killed this idea off.
Even backed by the auto transmission all E55 Chargers feature, the iconic 70's coupes were capable of mid 15 second quarter mile times, placing it up near the front in terms of go. Unfortunately that was matched with Valiant's renowned lack of "stop" or "corner".
This hasn't stopped the once ridiculed coupe in all its variants becoming a desirable and valuable collectors car, loved by thousands of Aussies who remember the call – "Hey Charger!"