Vodafone 888 Race Engineering's 2010 Holden Commodore broke cover today at Qld Raceway.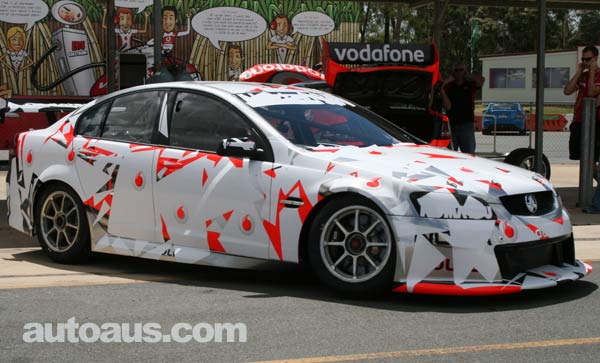 The 2010 Holden Commodore of Triple Eight Race Engineering showed off it's 2010 Vodafone Commodore in a shakedown run at Queensland Raceway. Wearing a patchwork of vinyl stickers to disguise the 2010 livery, the first appearance of the Holden after Vodafone's switch from Ford was limited to a handful of laps.
Driver Jamie Whincup took the driving duties on and was happy to get behind the wheel of the Commodore.
The team has been working day and night to get the cars ready in time for the start of the 2010 season and yesterday was a big occasion for us," Whincup said. "It was a great feeling to be behind the wheel of the car and I think the fans will appreciate the opportunity to have a sneak peak at the livery which will be campaigned by the team next year."
Team Principal, Roland Dane said the day provided the team with a chance to check over everything before proceeding with their preparations for 2010.
"I was happy to have our first run in the Holden," Dane said, "The car is the first of eight cars that are currently in production and the day was purely a shakedown and an opportunity to do a systems check while we also handed over Chassis 15 to DJR."