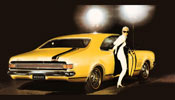 A couple of great ads from the 60s from GMH for the ground breaking HK GTS Monaro two door.
HK Monaro GTS
Probably anyone over the age of 50 would remember the release of the HK Monaro, and possibly because of the catsuited model in the door of the outrageous – for the time – Warwick Yellow coupe.
With its full width faux tail lights and sloping rear window the HK Monaro was a groundbreaker for Holden in Australia. For the first time, a two door coupe, dripping with American styling cues, and finally – a V8 engine.
The HK Monaro GTS was available with a six, or a "5 Litre" 307 cubic inch Chevrolet small block, backed up by the trusty powerglide 2 speed auto, or the mighty 327, with the "4 on the floor" Saginaw box.
The HK Monaro really was the start of something special in Australia.
Images copyright General Motors.