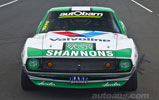 Jim Richards will debut his new – and different – AMC Javelin at the Adelaide Clipsal 500 round of the 2012 Touring Car Masters.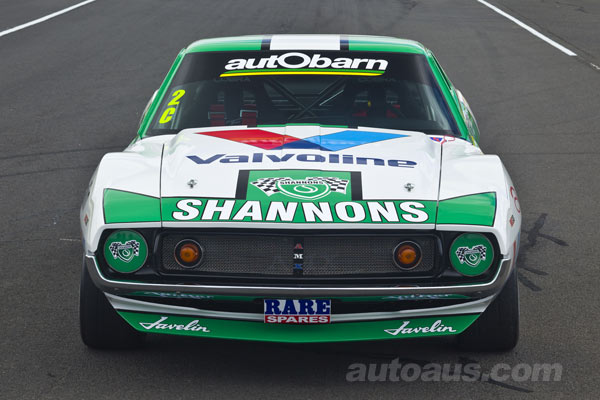 Jim Richards AMC Javelin set for Touring Car Masters
It has taken 30 months to complete, but Jim Richards says the Shannons 1972 AMC Javelin sedan he will debut at Adelaide's Clipsal 500 opening round of 2012 Touring Car Masters on March 4 is the finest racing car he has even built.
As an ardent admirer of Penske Racing and champion American driver Mark Donohue, who together dominated Trans Am racing with Javelins in the early 1970s, the distinctively styled AMC 'Pony Car' was Richards' first choice as a potential successor to his very successful Shannons Falcon Sprint
"We wanted something different that would interest spectators, but would also be in the Shannons mould," said Richards. "The Javelin ticked all the boxes."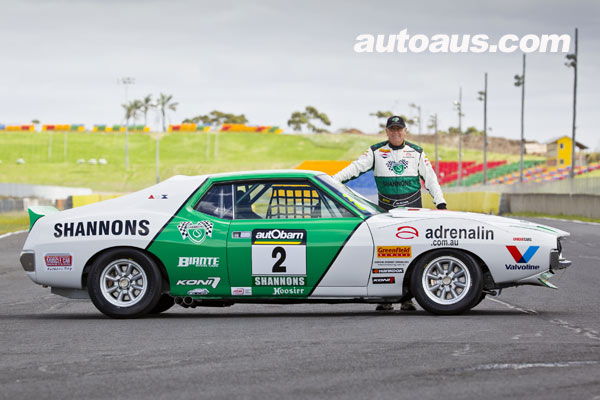 As only 178 Javelins were sold in Australia by then-distributors AMI, Richards began his search in mid-2008 by looking at US cars on the Internet.
"However it turned out that the uncle of one of my team members was an enthusiast with four or five of them and I picked this car up almost around the corner in North Melbourne!" he said."
The exhaustive process of turning the former road car into a TCM front runner began mid-2009 and involved stripping the Javelin of every nut and bolt and then rebuilding it methodically to the TCM regulations, employing proven racecar technology.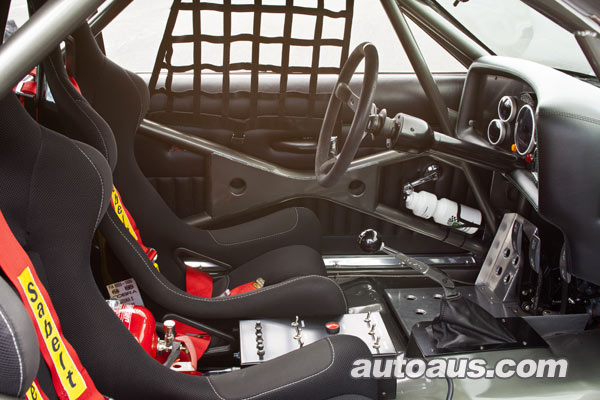 Richards said the project had taken him and former Gibson Motorsport Crew Chief Bruce Tyson some time to complete because his small team had been focussed on getting the most out of the Shannons Falcon Sprint, which rewarded them when Richards became the 2010 Touring Car Masters champion.
"We believe it has been worth taking our time," said Richards after the car's first shakedown at Melbourne's Calder Raceway. "The Javelin is a step up from the Falcon in every way and all the lessons we have learned from four decades of racing touring cars have gone into it."
To comply with TCM regulations, the Shannons Javelin runs a 360-ci AMC V8 producing "in excess of 600HP" and weighs a mandatory 1,580kg, plus an additional seeded driver penalty of 30kg.
This will make it 180kg heavier, but more powerful than the 289-ci V8-engined Falcon Sprint and on par with its Mustang and Camaro TCM rivals.
"Being more aerodynamic, wider and with a slightly better brake package, it should also handle and stop a little better than the Sprint, but we can't guarantee that it will be faster out of the blocks. We'll have to wait until Clipsal for that!", said Richards.
Shannons National Sales Manager Paul Gates said interest in Richards' new Javelin by Australian enthusiasts had been "phenomenal".
"I have never known the arrival of a new racing car to be so eagerly anticipated," he said. "Its debut at Clipsal will be huge!"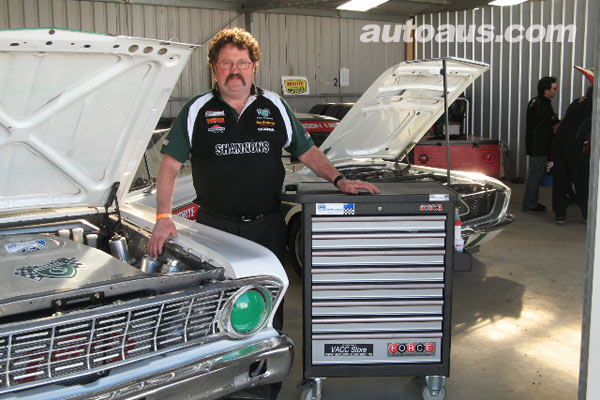 The Engine
One of the key characters in the construction of Touring Car Masters champion and multiple Bathurst winner, Jim Richards new AMC Javelin, is master engine builder and race car magician, Mick Webb and his Mick Webb Performance Engines operation in the Melbourne suburb of Ringwood.
Webb is no stranger to motor sport in Australia, or overseas, having been involved in everything from Formula Fords, touring cars and the short-lived A1 series.
However, when it came time for Jim Richards to seek out the right person to build the driveline of his potential winner he looked no further than his friend and colleague, Mick Webb.
Webb is also the man behind JR's championship winning Falcon Sprint engine and mechanical components and not only builds the engines but maintains and tunes them to keep them in tip-top, race winning shape.
But now, in a radical departure from the Falcon Sprint and all things Ford he has been an integral part of the Jim Richards Javelin project from the outset.
Building the Javelin was no easy task according to Mick Webb.
"The Touring Car Masters (TCM) promoters couldn't initially decide what engine the Javelin (a product of the long defunct American Motors Corporation) could run between its bulbous front guards," he said.
"After much debate the powers that be decided to allow a Chrysler engine after previously suggesting a Dodge or even a Ford engine could be used.
"The dilemma the promoters had was while they were keen for Jim to have a new and different car, with AMC going out of business decades ago there is next to nothing in the way of suitable engines or speed equipment for them," Webb said.
"These cars are very much a dinosaur having been made extinct in the mid-'70s," he said.
The TCM promoters finally agreed that a Chrysler 360 cubic inch block could be used because of a very tenuous link between AMC and Chrysler decades ago. The rules also allow for donor alloy heads so Webb opted to use Indy aluminium heads.
Webb in his imitable style spent many a late night and early morning on the phone calling his vast network of contacts in the US for advice and leads on what parts and services were still available.
The end result is an engine that is making 600 horsepower-plus. To take the brunt of this prodigious horsepower Webb decided to use a G-Force 101 four-speed gearbox, as used by NASCAR teams in 2011. The rear end is the near bullet-proof Ford nine-inch unit.
If developing the drive line for JR's new race car didn't keep the engine master busy enough, Mick Webb Performance Engines also has responsibility for the engines used by TCM front runners Bill Pye ('69 Camaro), Tony Hunter (HQ Monaro), Wayne Mercer (Falcon XY 351), plus three cars from the Ian Ross racing stable; a Group C Falcon XD, a Group NC '67 Mustang and a genuine '66 Shelby Mustang and the building of a Chevrolet 302 engine for the ex-Teddy Yip Formula 5000 now owned by racing identity and father of Will and Alex, Richard Davidson.