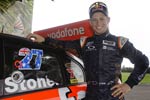 Vodafone today fulfilled a dream of Honda Moto GP great and reigning world champion,Casey Stoner, by putting him in the driver's seat of a TeamVodafone V8 Supercar, for the ultimate joy ride.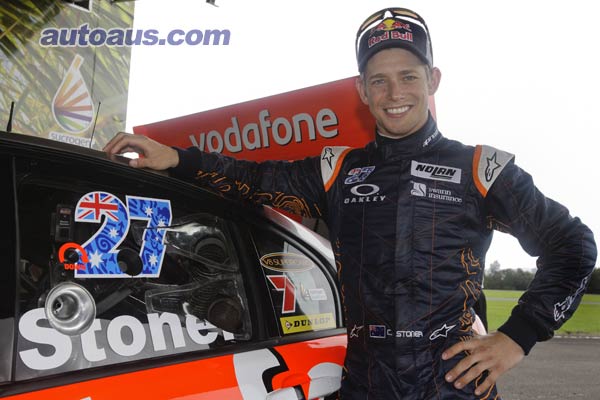 MotoGP World Champ Casey Stoner tests 888 V8 Supercar
For the very first time in his impressive motorsport career, the world's fastest man on two wheels, took to four wheels, in the TeamVodafone V8 Supercar, threading it through the challenging Driving Centre at Norwell, Queensland, completing 90 laps.
Organised by Vodafone, this extraordinary exercise was spurred on by the Honda ace, who after attending the Sydney 500 as a guest of Vodafone, expressed his desire to give Lowndes' TeamVodafone V8 Supercar, a red-hot go. No stranger to pushing the limits, Stoner discovered the thrill of driving the V8 Supercar.
Guided by five-time Bathurst winner Lowndes and his recently crowned V8 Supercar Champion teammate, Jamie Whincup, Stoner demonstrated why he is the best of the best, coming to grips with the V8 Supercar over the course of the day.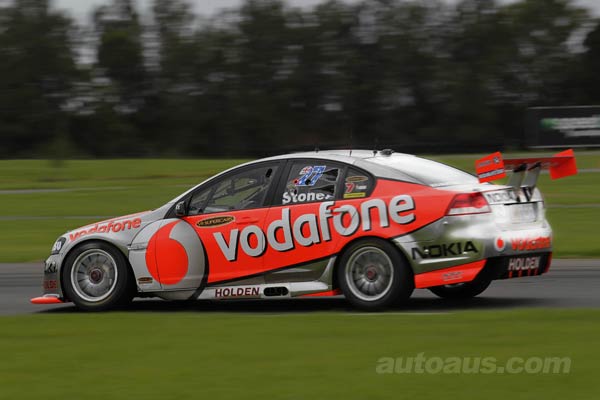 CASEY STONER: First impressions of driving a V8 Supercar
In it's own ways the track feels narrower especially going into the left hand corners. With these cars you can use actually quite a lot of the track so that can feel a little similar to being on the bike. With everything I am learning to day, I have to forget everything I know about bikes and change to learn to drive these, and it is the same thing going from cars to bikes.
On fulfilling a dream to drive a V8 Supercar
Something I have wanted to do since I was quite young actually and the opportunity to finally get in one and have a go is something pretty special to me. I am enjoying it
Most memorable part of driving the V8 Supercar
I am surprised at how well they absorb the kerbs, they are still going to be a stiff race machine but they do absorb the bumps pretty well and of course the power is still there. We have to deal with a fair bit of power myself. The hardest thing I have had to do is change whatever I know about braking and changing through gears. I am having to rethink it again. I didn't expect to be in Craig's actual race car. To be behind the wheel of something that won a race a few weeks ago is very special and I appreciate it.
You have had an incredible year how does this rate?
Finding out we were pregnant, winning the championship at my home race and on my birthday, all together it has been a fantastic season. That along with this, I couldn't really ask for a better year.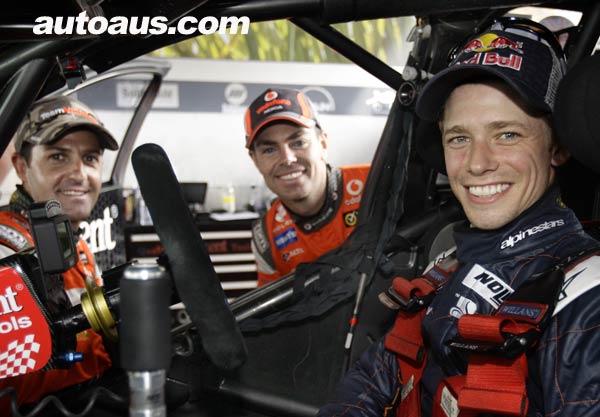 JAMIE WHINCUP: First impressions of seeing Stoner behind the wheel of the V8 Supercar
Casey did a great job today, Lowndsey did a few laps earlier this morning to lay a bit of data down, then he handed the car over. Hopefully this is an experience he really enjoys. These are really cool cars it doesn't matter if you are an F1 driver or a Moto GP rider we are really lucky here in Australia we have an awesome product.
Impressions on Stoner's overall performance on the day
While it was fun for him I know he wanted to do a good job and he certainly impressed everyone here.
Most memorable part of the event today
It is crazy to hear and talk about the differences between going fast on two wheels to four wheels. Simple things like how you control the clutch is so much different in his world compared to our world. It is a good learning experience and it is good to have that knowledge from both sides.
Do you think Stoner will be back behind the wheel of the V8 Supercar?
I think for sure Casey has something to offer V8's. I am not sure how close that is for him, hopefully he goes on and does awesome stuff for us Aussies in Moto GP and on two wheels for a bit longer. Life after two wheels for most of those guys is car racing and I am sure his eyes are set on V8 Supercars because it is one of the strongest categories in the world.
CRAIG LOWNDES: First impressions of seeing Stoner behind the wheel of the V8 Supercar
It is fantastic to have someone of Casey's calibre in one of our cars. To see what he does on TV on two wheels and then see what he can actually do on four wheels is a real treat. He is in my actual racecar from Sydney thankfully I didn't bang it up too much down there and the boys were able to turn it around for Casey today. He has really gotten to grips with the technical side of the track here. Getting through the kerbs and across the fast section around the back took some getting used to. The technical side, low speed stuff he was right up to speed on straight away.
Impressions on Stoner's overall performance on the day
He did a really good job and is the ultimate professional it was an amazing experience to work with him.
Most memorable part of the event today
He actually knows more about us than what we do, it is quite incredible. Casey travels the world with Moto GP but keeps a really keen eye on what we do. From Bathurst to Homebush and now here it has been fantastic to get to know him. It has been nice to have the time to pick his brain and talk bout how he copes with the pressure at the level he is at.
ROLAND DANE: First impressions on seeing Stoner behind the wheel of the V8 Supercar
It is a privilege to have Casey in the car. Not only do I appreciate that, but the guys that work for me do as well. They are thrilled to be able to give Casey the chance to fulfil his dream and see where he ends up in four-wheeled motorsport.
Do you think Stoner will be back behind the wheel of the V8 Supercar?
I see no reason at all why Casey shouldn't be very competitive in a V8 Supercar. When you have spent most of your life away, chasing your dreams you have to work pretty hard at it. I think Casey has developed a steely determination to succeed at anything he does. He is as much a fan of V8 Supercars as we all are of Moto GP. It is in his hands if he wants to drive a V8 Supercar one day I suspect he will end up doing it.